Netent's New NRVNA Slot – What We Think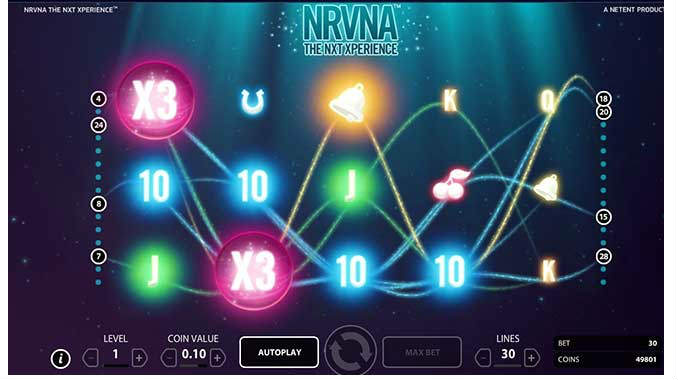 We're always excited to review a new game from one of our favorite developers. We met Netent's latest release, the NRVNA slot game, with the usual excitement. Unfortunately, we weren't impressed with this game off the bat, although after playing it for a while we started to understand what Netent were going for here. While this slot won't have you recommending it to your friends as a "must-spin" game, it's still a really well produced online slot that offers lots of ways to win, operates smoothly, and looks great.
Netent's New Slot – The Basics
This latest of Netent releases, called "NRVNA – The NXT Experience", is a 5-reel online slot with 30 paylines. The slot has a special animated bonus round and other great features.
NRVNA has a return-to-player (RTP) rate of 96.6% proving that it's friendly to players overall, although the amount of money you end up making on this game depends on your luck of course.
NRVNA has a nice range of bet amounts. The range of spin bets starts from 0.01 per line and goes up to 0.50 so this slots game suits the full spectrum of budgets. The game offers free spins, multipliers, wilds, and scatter symbols as features that allow the player to score bigger wins.
NRVNA – The Theme
The NRVNA slot game has a lot of great features and even some really generous payout opportunities. In terms of the graphics theme chosen, and the general ambience of the game, we aren't really convinced. Netent always does well to make their games look great and the NRVNA is definitely very sheek. The animations are great, and nothing seems out of place. That being said, are slot games supposed to be relaxing? This is of course a matter of preference and of taste, but something about the colour scheme, music and overall "story" of this game just seems to make it feel slower. This is a pity since the game does have a lot going for it. Anyway, this aspect of a slot game is of course based on personal taste so it's expected that this theme will work for some players.
NRVNA – What to Aim for
The main draw of the game is the NRVNA bonus wheel round that players will undoubtedly be hoping to enter as often as possible. Wild symbols are definitely something to look out for in this game as they can appear on any reel and in any position. The wild symbol will substitute any other symbol except for the scatter and will expand your winning potential. The more wilds you get, the higher your wild multiplier becomes, reaching 3 times your original bet.
NRVNA – Free Spins and Multipliers
NRVNA lets players win a maximum of 40 free spins which is pretty crazy. To win the free spins, you need to land 3 or more scatter symbols. The great thing here is that these can be re-triggered. The free spins rounds are where the magic happens as this is when the NRVNA wheel is opened up. The NRVNA wheel is made up of 2 independent rings. One ring offers multipliers up to 10 times your win amount. The second ring gives you more free spins. In terms of features, this game really seems to pump out the multipliers which is always a good thing in an online slots game.
In Conclusion
As big fans of a number of other great Netent slots games, this newest Netent slot NRVNA left us slightly less impressed than usual. It must be said that most of what we found disappointing here was the theme of the game which for some players isn't really that important. Since we try to review slots games from all angles we look at the design and ambience of a game since this can affect the level of a player's enjoyment.
In any case, the NRVNA slot is still a feature-rich game that offers lots of ways to win and can really expand your winning amounts thanks to a host of multiplier opportunities. There are a number of excellent and trustworthy online casinos recommended on our site that offer Netent games so try NRVNA yourself and let us know what you think of it. Happy spinning!