Playtech Launches New Live Casino Card Game

Playtech has already claimed its clear position as one of the leaders in online casino software. Here in Canada we have the privilege of being able to access Playtech's enormous gaming catalog via a number of top online casinos. We're already fans of Playtech's amazing live casino experience which lets you enjoy the excitement and charm of an authentic brick-and-mortar casino from the comfort of your favorite armchair or even from an iPad in the park! Now, the company's taken their live casino offering one step further by adding an amazing card game to the mix. It's time to introduce the 21+3 Blackjack side bet game to the live casino room.
Being such a giant in the industry, you'd expect Playtech to be coming up with new games and angles all the time. While there is of course a lot going on at Playtech at any given time (including buying up smaller firms just to enlarge their offering) this isn't the type of company that tries to constantly wow its customers with valueless products. Playtech seems dedicated to quality and take their time to make sure every gaming product they put out there is reliable and high on entertainment quality. This small yet significant addition to Playtech's live casino proves that they know what they're doing. This game is going to be a hit, adding the perks of playing poker into every round of blackjack.
Essentially, the 21+3 blackjack variation game is an enhanced odds side bet. The game is based on the player's 2-card hand and the dealer's up-facing card. Those 3 cards are then judged based on poker rules to see if they form a straight, flush, 3-of-a-kind, straight flush or suited 3-of-a-kind. If they do form one of those outcomes, the player wins the side bet payout with enhanced odds. Not bad!
But the fun doesn't stop there. When playing this hybrid blackjack-poker game, by landing a suited 3-of-a-kind hand you can win an impressive 100 times your original side bet!
Fans of brick-and-mortar casinos will probably already be familiar with this game. You're basically getting an additional chance to win on each hand and not only does the side bet let you win money regardless of the outcome in the blackjack hand, it also keeps things interesting. Options are always a good thing.
If you've never visited Playtech's live casino then all we can say is that it's about time. While there are online casino fans that prefer software to live games, Playtech's live casino is definitely worth a visit. The whole experience is very fluid and the atmosphere is great.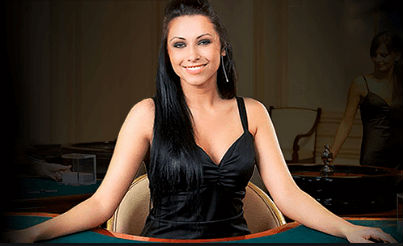 In response to the release of the new 21+3 blackjack game, the Head of Live Casino Innovation at Playtech, Kevin Kilminster, said "The 21+3 side bet is a great addition to the classic live casino blackjack game and puts the excitement of poker into every hand". We couldn't agree more. Kilminster went on to say that the game "will appeal both to those payers who are familiar with either card game, as well as new customers who have never played blackjack before, and we're delighted to offer even more chances to win". To be honest, while this game definitely appeals to casino fans with its additional win opportunities, the appeal to poker players isn't as obvious as Kilminster makes out since this is still a "statistical bet" and not really a skill-based game, something that poker players usually prefer.
Playtech offers a huge selection of gambling entertainment including casino games, poker rooms, bingo, sports betting, arcade games, social gaming, binary options trading, mobile gaming and more. As online casino lovers ourselves, the brand is of course more than just a familiar sounding name as we've long been fans of their games and software in general. If you're interested in seeing what Playtech is about, feel free to sign up to our recommended Playtech casinos for Canadian players.