New Sports Betting Bill will be Debated in Parliament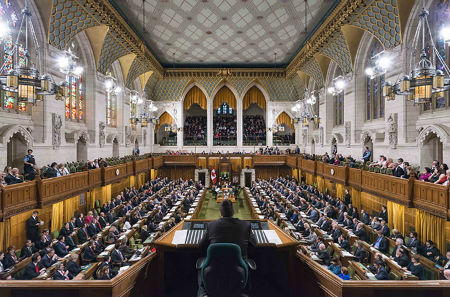 Welcome to our second installment of our weekly Canadian casino news roundup. Stay up-to-date with the latest online casino news from Canada and around the world. We'll also be covering fun and interesting gambling stories and insight into trends in the betting world…
Canada's Single Event Sports Betting Bill Debated in Parliament
This week Canada's single event sports betting bill is receiving its second of three readings and will be debated in parliament. Current legislature only allows Canadians to place parlay bets, which of course are far more difficult to win.
At the moment, Canadians use international sportsbooks to place individual bets, which is legal. It's almost as if the government wants sports bettors to spend their money overseas. Obviously provincial operators have a problem with the situation since they're losing out in a big way. How Big? According to the Canadian Gaming Association, Canadians bet $450 million annually on legal parlay wagers at home. That sounds like a substantial amount, but it's nothing when compared to the astounding figure of $10 billion that's spent at online gambling sites that are considered offshore!
The amount of tax money that those extra $10 billion could bring in is huge. This money could be used to improve schooling and health services as well as expand support programs for problem gamblers. This is the second time a bill of this type has been presented to Senate, the previous one having lost its momentum in lieu of the general election in 2013.
Will things go better this time? It's hard to tell. Supporters for the bill like the now retired NDP MP Joe Comartin say it will help authorities fight organized crime and will help create jobs for communities all over the country. In opposition to the bill is the NHL who currently have eight hockey franchise in Canada.
Europartners Parts Ways with Canada, Again
Europartners has announced its departure from the Canadian market for the second time. The first was in 2013, but that didn't last very long. The company reversed its decision shortly afterwards. Why the back-and-forth? No one really knows. If they initially feared being targeted by Canadian authorities, wouldn't they have sought legal advise before making such a huge decision. Also, one would think that within the industry, it's common knowledge that operations hosted outside Canada can offer their services to Canadians. Anyway, they went back to letting Canadians play and that's all that mattered then.
Now, for an equally unclear reason, the company has again announced that it's withdrawing its brands from Canada. This change will be quite immediate too – from the 1st of May 2016, all casinos operated by Europartners will close their doors to players from Canada and Australia. And this is after the company especially created a new brand, Europlay, to answer to the needs of the Canadian and Australian grey markets.
There has been speculation about the link between this reduction of market spread to the recent Panama Papers fiasco. The exposed documents revealed the name Teddy Sagi 16 times in connection with offshore companies. The idea is that the release of these papers may have caused Playtech to adopt a protective strategy and get out of any "grey markets" as soon as possible. This isn't just a juicy scandal though. Withdrawing from both Canada and Australia is huge and will affect many companies and services that base their activity on Playtech products.
For casino fans, this means that we'll no longer have access to Europa Casino, Titan Casino, Casino Tropez and some others. The good news is that it doesn't mean we won't have access to Playtech games. Whew. Yes, you can still play Playtech games at a variety of other online casinos. In fact, all the Playtech casinos in our Casino Reviews section will still be available to Canadian players.