Major Millions Slot Machine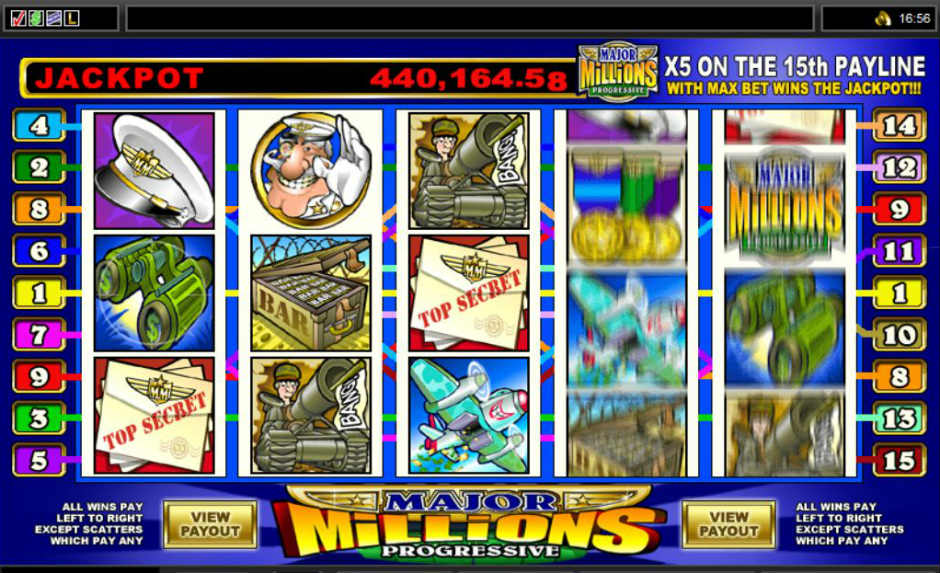 General Description
Microgaming has become world famous for their progressive slot games and Major Millions is one of the company's classics. The game is loosely based on a military theme with symbols taking the form of light-hearted army images such as cartoonish tanks and planes, top secret documents and binoculars. Major Millions doesn't require huge bets per spin which makes it quite an affordable game to play while still putting you in the position to hit that lucrative progressive jackpot.
Software
Major Millions is a fairly traditional 5-reel video slot. The game has 15 paylines in total with the current progressive jackpot appearing at the top of the screen and the controls at the bottom. The gameplay is very straightforward with fun graphics and audio that includes cute military-style drum rolls and other entertaining sounds. Major Millions is also available as a 3-reel slot which shares in the progressive jackpot pool.
How to play the Major Millions Slot Game
Major Millions is a really simple and intuitive online slot. Keep in mind that to be eligible for the progressive jackpot you will need to bet on all 15 paylines. Since the coin value is quite low on this game, that won't cost you too much per spin, making it this a great value online slot. In fact, when you take into account that a lot of the progressive jackpot slots online today need over $5.00 to let you play for the jackpot, this game lets you get almost twice the number of spins for the same amount of money.
Wilds – The Major Millions logo acts as the wild symbol. Not only does this wild symbol complete winning combinations, it also triples the value of that particular win.
Scatters – The scatter symbols can show up anywhere to complete winning scatter combinations. You need 3 scatters or more for a winning scatter combination.
Major Millions does not offer a bonus round or free spins, but makes up for this with its fast-pace and big jackpots that can be won on any of the 15 paylines.
Tip
Like many other similar progressive jackpot slots, make sure you bet on all 15 paylines to be eligible to win the maximum prize.
The Major Millions Progressive Jackpot
The symbol you'll be aiming to see as much as possible is the Major Millions logo. Getting 5 of these symbols on any payline between 1 and 14 will pay out an impressive 8,000 coins. This is one of the major attractions of this game – you don't have to hit the progressive jackpot itself to rake in huge wins.
To win the progressive jackpot, you'll need to get 5 Major Millions symbols lined up on the 15th payline. The base, or minimum, amount of the Major Millions progressive jackpot is $250,000, but it does climb quite quickly. On average, you can expect the Major Millions progressive jackpot to be hovering around the $400,000. Major Millions has paid out jackpots of close to $2,000,000.
In Conclusion
Major Millions is a classic online slot game with a lot of character. It's simple to understand and has a funky retro design that will keep you entertained. The progressive jackpot is of course one of the game's major draws, but it's good to keep in mind that there are lots of other opportunities to win big. This is due to having 14 paylines that also pay out big amount, and not only the 15th payline with its progressive prize. If you like playing casino games on your mobile, you'll be happy to know that Major Millions is also available as a mobile version.