Online Video Poker
Video poker has become a favorite of online casino enthusiasts in recent years, and this is true with Canadian players as well. The reason for this is probably because video poker maintains a really good balance of interest, skill, and fast-paced action in one game. Video poker is really easy to understand and play, and also has a good level of interaction to it that makes it a lot of fun. You can also learn about the game and get better as you play which gives you even more incentive to try and win more. Video poker exists in a number of different formats and variations so there's also a lot to explore once you get a feel for the basic versions of the game.
Best Canadian Video Poker Sites
Here are our recommended online casinos for the best video poker experience…
How to Play Video Poker
Video poker can be enjoyed by anyone. You don't need to have a strategy to play the game or even in although if you are interested, there are video poker strategies that can be learned. Here are the basics of how the game is played…
Choose the credit denomination. Click the arrow or +/- buttons to decide how much each credit is worth.
Place a bet. Decide how much you wish to bet on each hand. Keep in mind that video poker machines are more likely to pay out jackpots when you are betting the maximum amounts. This isn't affected by the credit size you choose.
Hit the "Deal" button.
Build your hand. Once you hit "Deal" you'll see your hand of 5 cards. Now it's up to you to choose which cards to hold and which to replace. Aim for one of the winning hands that appear in the game's pay table. Click the cards you wish to keep and then hit "Draw".
Get your new cards. If you're lucky and held the right cards, your new cards will have helped you reach a winning hand. Well done!
Bonus Rounds. Some video poker games have bonus rounds that let you go double-or-nothing on your winnings. You reach the bonus round by hitting a winning hand. In the bonus round, one card will be face up. Your task will be to pick a card that is higher than the face card.
Video Poker Tips and Advice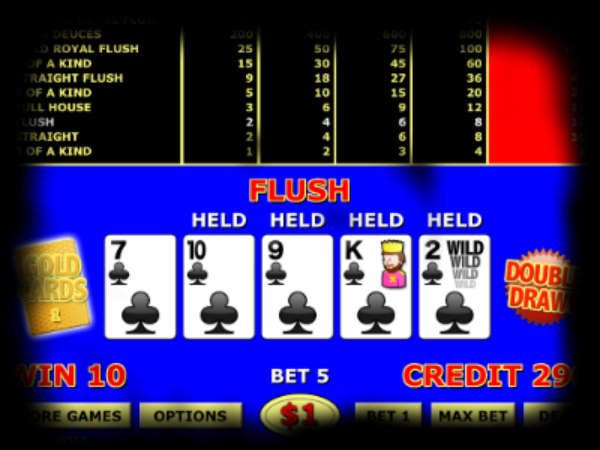 Video poker is similar to blackjack in that with every hand dealt there is an absolute "best" strategy to continue the play of that hand. Unless you're a professional gambler, there's no real need to perfect a strategy just to enjoy playing the game, but that's up to you. Also, this strategy will be different depending on the variation of video poker you're playing so we don't recommend diving into complex strategies if you're just a beginner. Here is some of our basic advice for playing video poker…
A win is a win. If you have a winning hand, don't be greedy and try for a bigger win. Collect your winnings and move on to the next hand.
Stick with the basics. Games with a lot of wild cards might attract you with bells and whistles, but will often require a higher minimum hand for you to score a win.
Start with a single hand. Don't play the multiple hands games until you get a good feel for the single hands.
Always play for fun. If you're working up a sweat, worrying about your balance, or start getting annoyed by a string of losses, just take a break. You're meant to be having fun!
Understand the paytable. Paytables vary per game. Games that pay more for certain hands are of course better than those that pay less.
Bet max. Even if you're using minimum credit amounts, always bet the maximum amount.
Video Poker Terminology
Here are some terms you should familiarize yourself with before getting into video poker…
Wild Cards – Wild cards can take the value of other cards in order to help you reach a winning hand.
Auto-Holding – Many video poker games will give you the option to let the game recommend which cards you should hold onto.
Gamble/Bonus Round – Some video poker games will offer you the chance to go double-or-nothing on your winnings when you've reached a winning hand. This is done with a high-low card guessing game.
Level Up – Some video poker games will reward you for stringing together your winning hands. This is great if you like playing the long game. By hitting winning hand combinations, you can reach higher levels with better payouts.
Minimum Hand – This refers to the lowest value hand you need to win a payout from a game. In the popular "Jacks or Better" game, a pair of jacks or higher value hand is the minimum hand you need to have to win money.
Video Poker Game Types
Single Hand – In single hand video poker games, you are dealt one hand at a time. We recommend single hand games for beginners.
Multi-Hand – These games deal multiple hands at once. This makes the game much faster, but can also be a bit too much for new players. Once you're ready, multi-hand poker games can be a lot of fun.
How to Play Video Poker for Free
All of the the online casinos that we review and recommend on this site will offer free versions of at least a few of their video poker games. Just go to the video poker section in the casino games menu and click "Play for free". This is a great way to learn how to play video poker and practice your strategy. Then, as soon as you're ready, you can play the same game using real money. Or play for free below (available in desktop)
In Conclusion
Video poker has become a staple of any online casino. Both single-hand and multi-hand video poker games are a lot of fun to play and the control of the game makes it feel very interactive. There are game strategies for playing video poker and we will perhaps write an article outlining these strategies in one of our forthcoming articles, but learning strategies isn't a necessity to win and you can still enjoy the game without them.