Treasure Nile Slot Machine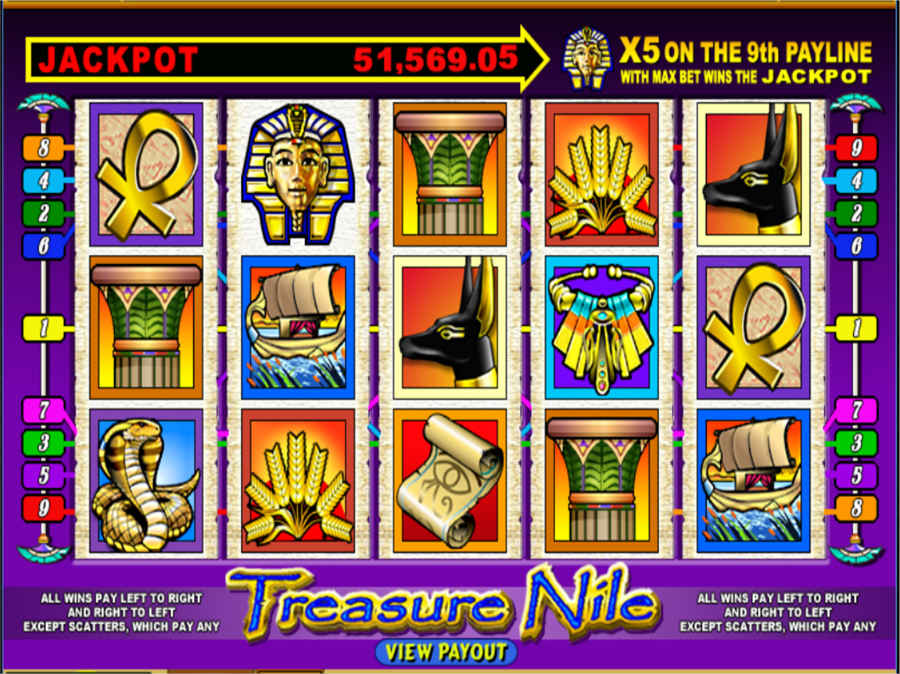 General Description
Take a mystical journey into one of humankind's most mysterious civilizations with Microgaming's legendary Treasure Nile online slot game. The game revolves around an ancient Egyptian theme and resembles a lot of the more traditional video slot games both in design and in the way it's played. The Treasure Nile slot game has maintained its high level of popularity over the years probably due to its easy-to-play structure and the fact that it offers a very attractive progressive jackpot.
Software
Treasure Nile is one of Microgaming's classic online slot games, having been first released by the leading casino software developer back in 2004. Despite its age, Treasure Nile is a really fun slot game that's simple to play with smooth animations and funky background audio. The game has 5 reels and 9 paylines. There aren't any crazy bonus rounds or free spins, but Treasure Nile makes up for that with its special symbols and of course the extremely attractive progressive jackpot.
How to play the Treasure Nile Slot Game
The first thing you might notice when playing Treasure Nile is that there aren't any of the playing card symbols that are typical to the more classic online slot games. It's definitely a plus since the symbols of this game are a big part of its storyline and retro ambience. Instead, images from the ancient Egyptian civilization have been chosen, which when forming the right combinations, give you your winnings.
The two important symbols to look out for are:
The pyramids – Treasure Nile's Wild symbol. The pyramids, also the game's logo, can substitute for any other symbol except the Scatter, but this symbol can't be used to complete a combination for the progressive jackpot.
The scarab beetle – This acts as the game's Scatter symbol. The scarab can appear anywhere, multiplying your stake by 5 to 50 times, boosting your winnings from the payline.
Tip
The coin size in Treasure Nile is fixed at $0.50. What you can alter is the number of paylines you bet upon, which in turn will modify your bet amount per spin. However, by not betting on all 9 paylines, you won't be eligible for winning the progressive jackpot. While there is big prize money to be made playing this game, not taking a chance at hitting the progressive jackpot is kind of missing the point.
The Treasure Nile Progressive Jackpot
Treasure Nile's progressive jackpot has paid out wins of more than $500,000 on many occasions, but the average amount is usually around the $50,000 mark. To hit the jackpot, you need to get 5 of the King Tut symbols to appear on the 9th payline. It may seem unlikely, but hey, it happens. Just remember our tip – you need to activate the 9th payline which means betting max. This will cost you $4.50 per spin.
In Conclusion
Treasure Nile is a classic online slot game and it's pretty clear why. The game has tons of character with a great story to it and lots of ambience in the form of quirky animations and mysterious background music. The game's straightforward payout table makes it easy to know what you're aiming for and how much you should be betting. While the lack of bonus rounds may be considered by some as a minus, it's actually quite nice being able to play a slot game for a while without tons of screen changes and other crazy distractions going on. At the end of the day, Treasure Nile has a shining progressive jackpot that's always up for grabs, and that's exactly what keeps us coming back for more spins on this epic online slot.