American Roulette Introduction


After becoming extremely popular in Europe, the game of roulette was introduced to the US in the early 1800s. This is said to have been a result of the many French immigrants who fled Europe during the French revolution, bringing the game with them, starting in New Orleans.
The French rules were changed so that the wheel contained 2 additional partitions – a 00; and the symbol of an eagle. In this early version of American roulette, when the ball landed on the eagle symbol, all bets would be collected by the house, unless someone had wagered on the eagle which would collect all bets and give them to the house. While the eagle doesn't exist in American roulette today, the double zero does. The other major difference between American and French or European roulette is the order of the numbers on the wheel.
How to Play American Roulette
Roulette is a very simple game to play, which is also why it has become one of the most attractive and well-known of all casino games. In both land-based and online gambling, a roulette table is a must for a casino to call itself a casino.
The game centers around the "roulette" which means "little wheel" in French. The wheel is spun, and the ball is dropped. Eventually the ball comes to land on one of the numbers and if your prediction was correct, you win!
At this point, you can choose to collect your winnings and regroup, or you can "let it ride" which means to leave your original bet and your winnings on the same number or group for an additional spin. It's a chance to win even more, but also a chance to lose your entire wager for that spin so take a moment to make that decision.
While there are a number of statistical theories and methodologies for "beating the casino" by playing roulette, we urge you to take a minute to understand how the game actually works. Since roulette is based on chance, and the numbers are arranged in a certain way, the house will always have an edge in the long run.
This is especially true with American roulette since the added 00 makes it slightly harder to win due to the additional possible results. If you enjoy strategies and like learning about them, then by all means do the research. You can also play for free and try out your strategies before using them by placing real money bets.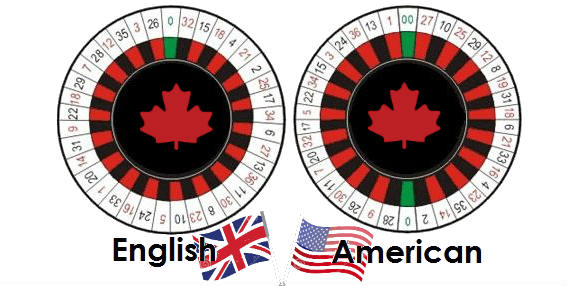 We simply recommend that you be aware of false information. There are a lot of claims on the internet of how to beat the house playing roulette and earn money this way. The truth is that even the most sophisticated betting system out there cannot guarantee 100% success at a roulette wheel. Roulette is meant to be fun, so we suggest you play it to enjoy yourself. It's a really exciting game and if you're lucky, you can have a great time making bets and winning money too.
American Roulette Odds
Roulette tables are divided into :inside bets" and outside bets". "Inside "bets" are the numbers and their combinations while "outside bets" refers to the additional options on the outside of the table such as the 1st,2nd or 3rd dozens, Even/Odd etc
Inside Bets
A single number (also known as "straight up"): 35 to 1
2 numbers (or "split"): 17 to 1
3 numbers (or "3-line"): 11 to 1
4 numbers (or "corner"): 8 to 1
5 numbers: 6 to 1
6 numbers ("6-line"): 5 to 1
Outside Bets
12 numbers (a "column"): 2 to 1
12 numbers (a "dozen"): 2 to 1
Even/Odd: 1 to 1
Red/Black: 1 to 1
1-18/19-36 (also known as "Low/High"): 1 to 1
American Roulette Tips
Most online casinos that offer roulette will have at least 2 variations – American and European standard versions. Because of the added 00 on the American roulette version, the odds of the ball stopping in your favor are lower than in the French or European versions. Unless you insist on playing American roulette, we recommend playing the European version where possible as your odds will generally be better.
Another tip is to make sure you're fulfilling your wagering requirements. If you've received any bonus money, you might need to "play it through". With roulette games, casinos will often not count your wagers fully towards covering the wagering requirements. So, if you're really set on getting that bonus money, you might want to mix up your play with some slots and other games. The best advice we can give you is to read the bonus terms and conditions that appear in the casino's website.a
How to Play American Roulette for Free
American roulette is a must-try for any roulette fan but some people prefer trying out a game before signing up to a casino and making a deposit. Many online casinos will let you try out some of their games without depositing any money. Almost all of our recommended casinos offer this option and by visiting these casinos you can easily just find the game you're looking for and give it a try. The "play for free" versions can be used to test your knowledge of the game and maybe experiment with some strategies. Then, when you're ready to play for real, just click the "play for real money" button and you'll be taken to a registration form. From there it's a pretty quick process depositing some money in the online casino and starting to play for real.
In Conclusion
We're big fans of any roulette game as roulette has come to symbolize the casino experience. Spinning a wheel and waiting for the ball to drop captures the essence of that moment where anything can happen. If you want to try out some high quality online roulette games, just sign up at any of the recommended casinos on our site. Because these are all established gambling services, they allow you to play the games for free to see if they appeal to you, before making a deposit. Good luck at the roulette wheel!