10 Tips to Sharpen Your Online Blackjack Game
Blackjack is a classic casino game that can be enjoyed by players of all levels of card game experience. You definitely don't need to know any strategy to have a good time playing, or even to win. However, the blackjack system, like all casino games, is mathematical and there are certain decisions that you can make as a player to optimize your chances of winning.
In blackjack, every possible card combination that you are dealt will have an optimal decision with regards to the odds of winning the hand with those cards. It would be crazy to try to memorize all the possible hand combinations and all the correct decisions for each stage of those hands. Especially since you'd have to also take into account what the dealer was dealt. Well, that's why we have blackjack strategy charts. A blackjack strategy chart is a kind of map that tells you which action you should take in a specific blackjack hand.
Do Casinos Allow Blackjack Strategy Charts?
Brick-and-mortar casinos? Definitely not. Besides being very helpful in allowing people to win money from the house, casinos don't want people slowing the game down and fiddling with pieces of paper. That's quite understandable. With online casinos, the story is a little different. While no online casino will openly admit that they don't mind players using strategy cards, they obviously know it happens and take it into account. After all, a lot of players who are aware of the option of using strategy charts prefer playing intuitively, which is of course fun as well.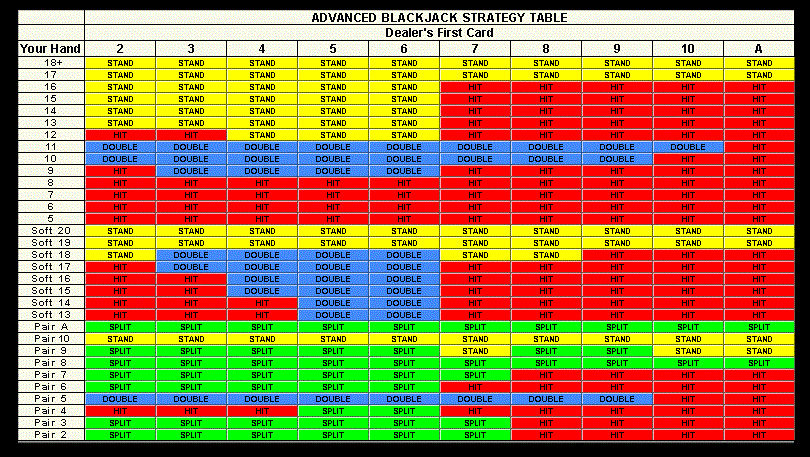 Tip 1
Perfect one blackjack variation before moving onto others. Get used to the strategy charts, game by game.
Tip 2
Always use the correct strategy chart for the blackjack version you're playing. There are many blackjack variations and the different rules require different strategies.
Tip 3
Avoid any blackjack variation that has the dealer hit on a soft 17. This might seem strange because you'd think it would be better to have the dealer risk busting. The reality is that the house benefits from the dealer hitting on soft 17 when your hand is at 18, 19 20, or 21 points.
Tip 4
If you're interested in redeeming a casino bonus, check that the online casino rewards you with play-through credit for playing blackjack.
Tip 5
Remember to play blackjack at a reputable online casino such as the ones recommended on this site. There are still lots of online casinos that are not monitored or regulated by third-party organizations. Avoid them.
Tip 6
Don't play without a time limit. Using a strategy chart requires focus and when concentration is down, mistakes start to happen. After all, this is about having fun, not working up a sweat.
Tip 7
If you've found a good online casino for playing blackjack, don't just grab your bonus and move on. Even if you've played through your bonus requirement, if this casino is secure, good for blackjack, and gives you bonus money for playing, why switch?
Tip 8
Don't opt for the insurance as this will give the house an advantage. Strategy charts do not include the option of taking insurance.
Tip 9
Bet wisely. Make wagers that suit your bankroll and of course, your bank account.
Tip 10
There is always a house edge. Even the tightest strategic play won't guarantee you will always win although the house edge can be minimized to as little as 1%.
So there it is. While we always recommend playing at online casinos for fun, we know players will seek out ways to win more. We hope these tips help you learn more about blackjack and add even more enjoyment to your playing.