888 Launch Pokémon GO-Style Free Bets App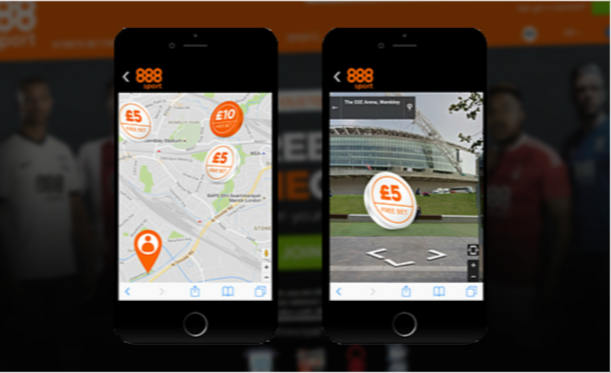 The Pokémon GO phenomenon spread like a wildfire this summer, gathering popularity instantaneously and catching the attention of the international press. The game's extreme popularity and unique effect of making people take to the streets with their mobile devices conjured up a lot of strong opinions both for and against it. Some people see the game as having a negative effect, making people become unaware of their "real" surroundings and blurring the line between our online and offline lives. There were even rumours that prime minister Trudeau had plans to ban Pokémon GO from Canada! Others see it as a refreshing look at gaming and a natural way to get people to go outdoors and interact with others. Opinions aside, Pokémon GO created a huge wave that didn't go unnoticed by the online gambling world either as can be seen by the folks at 888Sport who went on to develop a similar GPS-based app that offers free bets based on your physical location.
The Free Bet Hunt Game by 888Sport
So how does a free bet app based on Pokémon GO actually work? Well it's not as complicated as it sounds. The "secret" free bets are scattered in the vicinity of actual sports stadiums. At the time around a certain game taking place at the stadium, players can explore the surrounding neighborhood and snatch up free bets that are completely exclusive to the app. It's good to see that 888Sport took this idea all the way in that you can't just get a free bet by going to the game, you have to physically collect it by locating it precisely. Another advantage of this is that you don't have to have a ticket to the game. You can still visit the area of the stadium and collect your free bets.
The Senior Vice President of the 888 online gaming superbrand, Itai Pazner, said "the great thing about this game is that fans don't necessarily have to be going to the match in order to take part. The initiative is another major step in providing football fans with a fully immersive betting experience and ensuring that no matter the location or time of day, fans have the opportunity to make their bets around a match day."
The sports betting wing of 888, known as 888Sport, has sponsorship deals with a number of sports teams including 4 Sky Bet Championship clubs – Birmingham City, Brentford, Nottingham Forest and Preston North End. But the Free Bet Hunt game will soon also be used for Premier League soccer fixtures. Unfortunately, that's where the app ends, meaning that the fun won't be available in Canada for now. Who knows? Maybe in the future we'll also be able to take part. If it works for soccer games in Britain it can work for hockey games too.
A Momentary Trend or a Valuable Idea?
It's hard to tell if this move by 888 will actually catch on or if this will just peak as a promotional gimmick. On paper it sounds great, but it's hard to imagine people going all out and continuing to get excited about searching for free bets on foot. On the other hand, this could be the start of a new type of online gambling interaction. One outcome that the Pokémon GO phenomenon created was that people were interacting with one another. Perfect strangers began talking about their shared experiences, competing with each other and giving out tips. When it comes to betting on sports, the whole context is completely different and so is the audience, but this new approach might just be the tip of the iceberg. With some creative thinking, this could develop into some interesting ideas moving forward. It would also be interesting to see if a similar type of idea could take hold in the online casino world. That's something we'd really like to see from the folks at 888 Casino. Let's just hope us Canadians will be also be able to participate in the craze!