NetEnt Completes "Rocks" Slot Series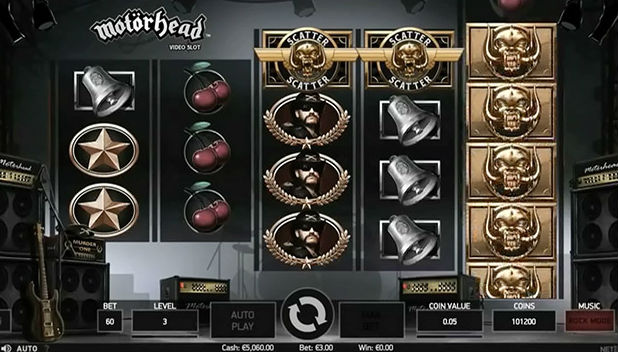 The NetEnt online gaming software company has completed its Rocks Trilogy series of slots games. The game to complete the trilogy is a new slot machine based on the English heavy metal band Motörhead. The official preview of the new Motörhead slots game has been released and there's lots of anticipation as to how this game will be received by the gaming public. The first 2 games in the Rocks Trilogy were the Guns 'n Roses and Jimi Hendrix slots which were released earlier this year.
The Official Motörhead Slots Game
It looks like we're in for a treat – a heavy metal slots games that promises to hit hard. The game features one of Motörhead's biggest rock songs – "Rock Out" – and is also a kind of tribute to Motörhead's legendary founder Ian Fraser Kilmister, better known as "Lemmy". Other well-known Motörhead hits included in the game are "Ace of Spades", "Overkill" and "Iron Fist".
NetEnt's Chief Product Officer, Simon Hammon, said, "We are thrilled to be working with an iconic brand such as Motörhead through our collaboration with Global Merchandising Services. Motörhead will form a great addition to our 'NetEnt Rocks' series of games. We will make a game the band will be proud of by creating a fast paced slot machine that is in tune with the energy and passion of the music."
Motörhead really are a great band to base a slots game on. Over the years, the band built a legendary reputation for partying hard and putting on rock shows that shook audiences. Motörhead has a huge following that it has built up over its 40 years of activity. The band's leader and founder, Lemmy, passed away in December 2015 after battling with cancer, and it was decided by the other band members that Motörhead had come to an end as a live band. In a way, this new NetEnt slot is a pretty cool tribute to Lemmy and seems to go all out with regards to being very loud and very fast.
The NetEnt Rocks Trilogy
If you're not familiar with NetEnt's Rocks games then make sure you play the first 2 games in the series so that you're ready for the Motörhead slot. Both these games have amazing soundtracks and are fun to play with vibrant graphics and fast-paced slots action.
Guns 'n Roses was the first game in the Rocks trilogy and was launched at the beginning of 2016. The Guns 'n Roses slot machine celebrated the band's 30th anniversary and it's turned out to be a very popular release this year. The game has a lot of special features and bonuses like the :Crowd Please" bonus round, the free spins round called "Encore", and the "Appetite for Destruction" wilds that can help you land big win amounts.
The second game to feature in the Rocks trilogy was the Jimi Hendrix slot. This game also has some rocking tracks from Hendrix's discography such as "Foxy Lady", "Purple Haze", and "Crosstown Traffic". The Jimi Hendrix slot game has a really unique feel to it. On one hand the graphics seem hand-illustrated with funky 60s symbols spinning on the 5 reels. On the other hand, there are some really impressive 3D graphic animations that pop up for certain wins. It's a very attractive game overall and really worth checking out too.
When will the Motörhead Slots Be Released?
The final game in the Rocks slot series will be released for play in Autumn! You'll have to wait a few months, but it looks like it will definitely be worth it. If you're interested in trying out any of the Rocks trilogy games, or any of NetEnt's games, just sign up to a NetEnt casino. We have a list of recommended NetEnt casinos for Canadian players so feel free to pick one and have a spin or two.