NetEnt Release Footage of New "Theme Park" Slots Game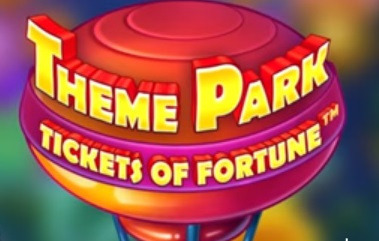 It's called "Theme Park: Tickets of Fortune" and it could be NetEnt's next big slots game hit. The game is due to be released for play in June. To promote the new title, NetEnt released some snippets of the various screens in a YouTube video. More of a teaser than an actual overview of the game, the video reveals something quite promising.
NetEnt is a software developer that doesn't let up, creating amazing slot games that share one thing in common: high entertainment value. NetEnt slot games have become the favorite of many keen slots fans, probably due to their commitment to giving players what they want – fun, vibrant and thrilling games, with good payout potential too, of course.
The release of "Theme Park: Tickets to Fortune" will mark NetEnt's last new game for this year's second quarter, but knowing this brand, we can still expect a number of hard-hitting casino games to reach players before the year is done.
As the name quite clearly suggests, "Theme Park: Tickets to Fortune" is based upon an amusement park and the different games that you'd typically find at one: a sledge hammer strength test, duck hunting, fishing, skee ball and other aiming games. Of course there's a regular slot screen too. The way that NetEnt have put everything together really makes all the games look very inviting, boasting vibrant colors and funky graphics. We especially love the layout of the home screen, with a cool map of the fairground that lets you make your way between the different game stalls, as you like.
The slot game in "Theme Park: Tickets to Fortune" is supposed to be packed with fast-paced action with five reels and 50 paylines. The soundtrack for the game is what you'd expect a theme park to sound like with very lively quirky music and a crowd cheering you on. The audio in this game will definitely get you in the mood to try out some fairground games.
Special Features
"Theme Park: Tickets to Fortune" is far from a traditional online slot game. This thing is packed with features, mainly in the form of exciting bonus prizes that are not only great to win, but are very entertaining. We especially love the idea of that grabbing claw game. As annoying as the real-life version of that grabbing claw is, in "Theme Park" it's a welcome sight. When you're lucky enough to get the claw symbol it will enlarge and reach beyond the screen to grab a prize for you. The prize is converted into coins and immediately added to your bankroll.
NetEnt has obviously included the classic features that us slots players love. "Theme Park: Tickets to Fortune" has stacked wilds, with the wild symbol being two kids in a rollercoaster cart. Because the game has 50 paylines, stacked wilds can make a big difference and getting even 2 in a single spin could pay you out a nice sum.
Wheel of Fortune Bonus Round
In "Theme Park: Tickets to Fortune" the bonus round is presented as a wheel of fortune game. To trigger the bonus round you will need to get three golden ticket scatter symbols. Then, just spin the wheel. Your prize here will be paid out to you in tickets that can be used to play the six bonus games. This is a great idea that really adds another dimension to this game. It feels like there is a lot to discover here.
The new "Theme Park: Tickets to Fortune" is due to be released June 22nd. Here's the official trailer to give you a taste of what's in store…